Article Date: 3rd February 2016
Young Hackney and CHYPS Plus alongside some young people in the local area have been working together to promote and encourage young people to develop a preference towards selecting healthier options in the preparation and consumption of African and Caribbean dishes.
Nutrition and Health…
African and Caribbean people living in the UK are more likely than other cultures to have certain health conditions such as: high blood pressure, diabetes and prostate cancer. There are no conclusive facts as to why African and Caribbean people are most at risk to these health conditions, but possible links to lifestyle and food can play a part. So with these factors in mind as part of Black History Month we will be tackling some traditional dishes and putting a health twist on them. Take a look at some of the dishes that have been prepared and even have a try yourself at preparing the healthier version…..
Baked Chicken and Sweet Potato
Fried chicken a staple in many African and Caribbean kitchens, with many using saturated fats causing high levels of cholesterol and weight gain.
Changing the way chicken is prepared and the fats being used is beneficial to the African Caribbean community.
Try this recipe baking the chicken in the oven using a small amount of olive oil.
Roasted Ackee and Cod
Traditionally this is made with dry cured salted fish, eating food with high salt content means high blood pressure, so eating less salt in the diet is good way to lower blood pressure. The recommended salt intake is 6g per day for adult and children under 6 is 3g per day.
Try using fresh smoked Cod as a substitute to Salted Cod.
Recipes
Baked Chicken (a healthy spin on fried chicken)Chicken thighs and drumstick – can be skinned or skin-less
2oz Milk
1tbsp Butter
Southern fried coating
Seasonings – thyme, black pepper, chicken seasoning

1. Pre heat oven
2. Melt butter and then whisk in the milk
3. Rub seasonings into the chicken
4. Dip seasoned chicken pieces into the butter and milk mixture
5. Then dip mixture into southern fired coating (TIP – put coating mixture into a plate of bowl for ease.
6. Place chicken on an oven proof dish, lightly greased (Olive Oil, Sunflower Oil) and bake in oven turning occasionally for approx. 30minutes until golden and cooked inside.
7. Serve with salad and sweet potato wedges

Baked Chicken and Sweet Potatoe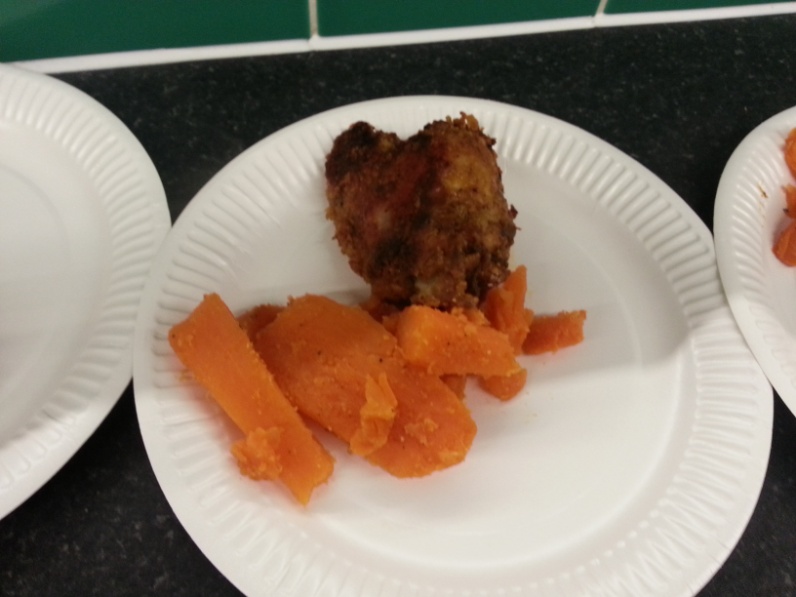 Roasted Ackee and Cod (a healthy spin on Ackee and Saltfish)
Tin of Ackee
2 fillets of smoked cod
1 small onion
1 small green pepper
1 small red pepper
2 tomatoes
2 sprigs thyme
Seasonings – black pepper
Scotch Bonnet – if desired
1. Pre heat oven
2. Finely chop onion, peppers and tomatoes (scotch bonnet if required) place together in a bowl with thyme and black pepper
3. Place chopped ingredients onto a baking tray, drizzle with a little oil (Olive Oil or Sunflower Oil) and put into oven to roast for 10mins
4. Lightly season cod fillets with black pepper
5. Place cod in oven proof dish and roast in oven.
6. Drain the Ackee and then add to roasted vegetables roasting for a further 10-15mins
7. When cod had been roasted remove from oven and lightly flake
8. Remove roasted vegetable and mix together with the flaked cod
9. Can be eaten by itself or with rice
Roasted Ackee and Cod in Vol-au -Vent Cases