Article Date: 21st August 2015
There has recently been many new things implemented in terms of education for the people of Hackney; helping the younger generations will in turn, help to continuously improve the community of Hackney. Not only are the students being given the opportunity to take part in things that will improve their understanding of later life, such as managing finances. These activities are also extremely fun and exciting for them too.
Managing finances…
Before you do anything in life, you must know whether you can realistically afford it or not. This will include being able to afford a car, a house, food, etc. so it's always going to be pretty important. This is why, students starting secondary school in the borough are being offered £20 to start up a credit union savings account.
This will inevitably teach them that money doesn't simply appear and that they must learn how to budget it in order for them to be able to afford things they need and want. This will also help them in later life when it comes to paying for things that are a lot more serious or vital to them. What's more, is this instils a certain amount of ambition too; as these students will begin to understand they must work hard in order to have nice things
(Image courtesy of: knowledge)
White-knuckle water ride to celebrate the London 2012 Olympics...
A group of young students from Hackney recently enjoyed a thrilling raft along white water rapids, as part of a festival, in order to celebrate it being 10 years since we won the rights to host the 2012 Olympics in London.
This session was free for them and has taught them many things such as how to work together, how to communicate properly and ultimately improves confidence whilst meeting new people. These students used the same course that was completed by Team GB back in 2012; to win one gold and one silver medal.
Mallory Franklin, Adam Burgess, Mark Proctor and Eteinne Stott are all hoping for medals at the ICF canoe Slalom World Championships; all students that took part in the white-knuckle water ride were lucky enough to meet these medal hopefuls and ask them any questions they wanted. Overall, the entire occasion turned out to be extremely valuable for the students. A perfect example of how Hackney's community is helping towards the development of their younger residents.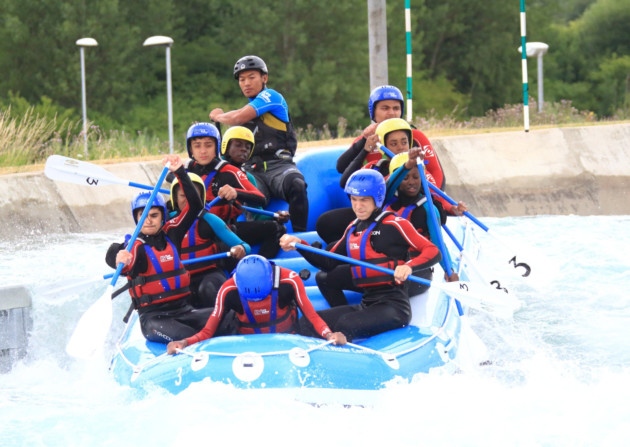 (Image courtesy of: hackneygazette)